For children who grew up as football fans in the mid-2000s, no other player captured your imagination as much as Brazilian legend Ronaldinho.
While his peak was short, he is held in as high regard as other legends, like Ronaldo and Zidane, due to the incredibly high level he played in, for a spell.
Nobody could ever accuse Ronaldinho of not enjoying himself on the pitch. His Samba style of playing, featuring incredible tricks that you'd never see attempted on a football pitch, mixed with the infectious smile on his face, made Ronaldinho a joy to watch.
He won the World Cup with Brazil in 2002, although it wouldn't be until 2005 when Ronaldinho won the Balon d'Or award for the only time in his career.
Just pipping English midfielders Frank Lampard (who led Chelsea to the Premier League title) and Steven Gerrard (who inspired the incredible Istanbul comeback in the Champions League final) to the award, he cemented himself as the best player in the world, recognised by all.
He was voted as the best player in the world due to his performances throughout the calendar year of 2005, for both Barcelona and for Brazil.
Ronaldinho In 2005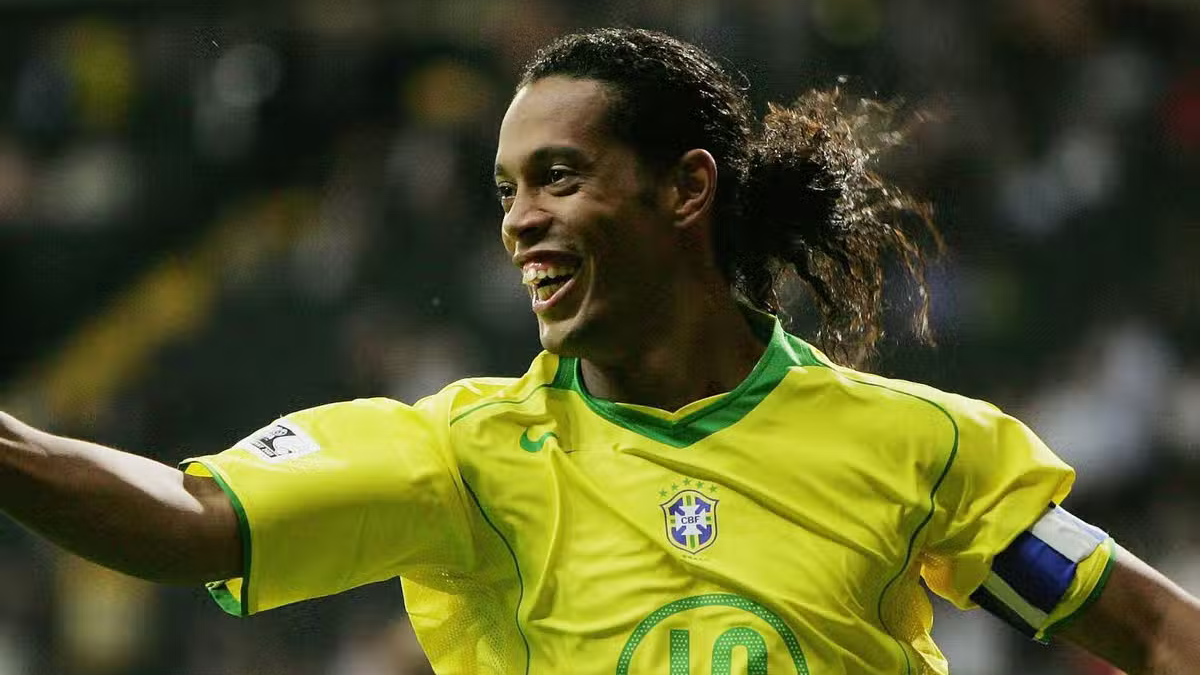 He started the year for Barcelona in fine form, lining up as the main man in a star-studded Barcelona team.
From January to the end of the season, he netted 6 goals and 9 assists in La Liga, which included a crucial goal in a 4-2 league victory over Real Madrid.
His work on the left-hand side of attack meant that defenders had to double, or even triple, mark the Brazilian, leaving space for Eto'o or Deco to run into, causing havoc in the defence.
With his help, Eto'o hit 25 league goals that season, although he was just pipped to the Pichichi Trophy (for most league goals) by Villareal's Uruguayan striker Diego Forland.
Barcelona's Champions League campaign was disappointing, as they crashed out in the round of 16 to Jose Mourinho's Chelsea. However, Ronaldinho starred for his side, scoring twice as his side fell to a 4-2 loss at Stamford Bridge (one penalty, and that goal that simply took your breath away).
The Brazilian also inspired his team to win the Conferedations Cup, scoring 3 times and assisting once, as Brazil beat Argentina in the final to secure the now-defunct trophy.
After the summer break, the start of the 2005/06 season was even more impressive. The trick Brazilian, still with a smile on his face in every game, stepped up a notch and became an unplayable monster on the left hand side.
For the rest of 2005, he netted 10 goals in the league, and 8 assists. This was one more goal than the entire previous season, and only one less assist. He was now the main man in Barcelona, with the team built around his brilliance.
Trophies followed him wherever he went. He scored 6 times and assisted 3 goals before Christmas in the Champions League – a tournament Barcelona would go to win that season, beating Arsenal in a controversial final match.
He also netted once and assisted once against Real Betis, winning the Spanish Super Cup to add to his already impressive trophy collection.
While runners-up Lampard and Gerrard also had impressive years in 2005, the sheer brilliance of Ronaldinho could not be denied.
While he always had incredible tricks in his locker, in 2005 he became the main man in Barcelona, adding a ruthless efficiency, without sacrificing his style of play.
He made Barcelona not just a great team to watch, but one who could take on anybody, and beat just about anyone who tried to take them on.
He made Brazil favourites for the 2006 World Cup, but the team fell in the Quarter finals to the might of Zidane's Brazil. Had they got passed Les Bleus, there is no doubt that Ronaldinho would have won the Ballon d'Or in 2006 as well – arguably an even better year for him!
In 2005, Ronaldinho beat out some of the all-time great players to win the Ballon d'Or, including Theirry Henry, Paolo Maldini and Milan's Kaka (who would win the award just two years later).
Here is the top 10 list for the Ballon d'Or votes in 2005;
Top Ten:
Ronaldinho (Barcelona) 225 points
Frank Lampard (Chelsea) 148
Steven Gerrard (Liverpool) 142
Thierry Henry (Arsenal) 41
Andrei Shevchenko (Milan) 33
Paolo Maldini (Milan) 23
Adriano (Internazionale) 22
Zlatan Ibrahimovic (Juventus) 21
Kaka (Milan) 19
Samuel Eto'o (Barcelona) & John Terry (Chelsea) 18