Despite his less-than-impressive stint as Manchester United manager, Ralf Rangnick will go down in history as one of the most important managers of modern times.
Not for his work with RB Leipzig, or time working in Russia. No, it is his innovations regarding the now-lauded Gegenpress style of play that will live long in the memories of football fans alike.
What Is Gegenpressing?
Gegenpressing is a style of football, popularised in England by Jurgen Klopp, but based on principles from over half a century previous.
Upon Jurgen Klopp's arrival in England, he expressed surprise at the English fascination with Gegenpressing, a trendy style of play he had popularized during his time at Borussia Dortmund.
He questioned why the English were so enamoured with it when it was essentially a development of the style that had dominated English football in the 1980s. While Klopp stands as the prominent figurehead of Gegenpressing, coaches like Pep Guardiola, Marcelo Bielsa, and Mauricio Pochettino have also embraced its principles.
The concept of pressing originated in the 1960s in the USSR and the Netherlands, characterized by multiple players aggressively closing down the ball carrier.
This approach inevitably left other players free, but the rationale was that a pressured player would struggle to deliver an accurate long pass to an unmarked teammate. By the mid-1970s, pressing had become a defining feature of British and Scandinavian football.
Gegenpressing emerged as a more refined development, specifically aimed at swiftly regaining possession after losing the ball. A player who has just won back possession is vulnerable, as they may still be controlling the ball, have expended energy in the challenge, and may not have assessed their teammates' and opponents' positioning on the pitch.
There are variations in execution, with some coaches, like Jupp Heynckes during his tenure at Bayern, assigning one player to press the ball while others close down potential passing options. Klopp, on the other hand, tends to surround the ball carrier, while Guardiola focuses on blocking passing lanes.
The core principles of Gegenpressing rely on speed, organization, and pressuring the opposition into mistakes to regain possession quickly and higher up the pitch, thus thwarting potential counter-attacks.
One of the main challenges for teams utilizing this tactic is knowing when to stop the press and revert to a defensive shape. The effectiveness of Gegenpressing is evident in the decreasing proportion of counter-attacking goals scored in open play in the Champions League over the past decade.
In practice, Gegenpressing is often targeted and tailored to exploit opponent weaknesses. For example, in a match against Tottenham, Klopp's Liverpool strategically sent their forwards to close down the central defenders, aiming to force a pass to the less comfortable fullback, Ben Davies, who was subsequently swarmed by multiple players. Identifying vulnerable players and analysing passing structures through data analysis has added sophistication to Gegenpressing.
With players now fitter than ever, capable of pressing intensely for extended periods, Gegenpressing has become the dominant style of the age. It maximizes the potential of teams by utilizing high-intensity pressing, data-driven analysis, and exploiting opponents' flaws in passing structures.
How Ralf Rangick Innovated Gegenpressing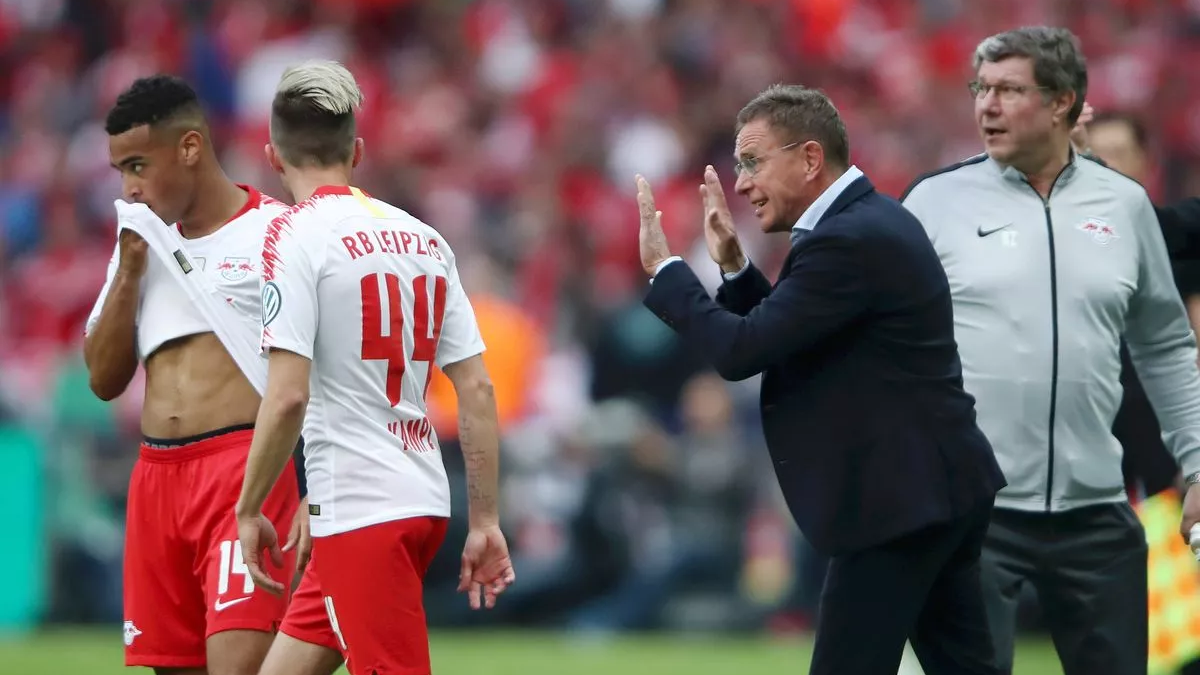 Ralf Rangnick is recognized as one of the key architects behind the Gegenpressing philosophy.
Throughout his tenures at various German clubs such as Stuttgart, Hannover 96, Hoffenheim, Schalke, and RB Leipzig, the German coach gained a reputation for instilling a proactive approach in his teams.
Rather than retreating and regrouping upon losing possession, Rangnick's teams were urged to quickly initiate efforts to regain the ball.
The genesis of this strategy can be traced back to a friendly match in 1984 when Rangnick encountered Dynamo Kyiv, managed by the Ukrainian tactician Valeriy Lobanovskyi, whose pressing philosophy left a lasting impression on him.
Rangnick's influence extends beyond Gegenpressing as he has played a significant part in popularizing other renowned tactical systems, including zonal marking.
His philosphy stemmed from the desire to force an opponent to make a mistake. Football is a game won by tiny margins, so to find any advantage to win the match key.
By having the team press the man with the ball, it took away his time on the ball and forced him to make a quick decision. By focusing on the less skilled players, Rangnick's team could force the opposition to make a mistake, and turn the ball over with ease.
This required immense fitness from his sides, and as the years went by and player fitness improved, the gegenpress became more refined and effective.
This also meant that if a team lacked speed and stamina, then performance would fall off later into the game, and the season. This has been evident with Liverpool, who struggled to continue their intensity as the games wore on.
Rangnick presented his tactical philosophy, which he had been refining since the 1970s when he began coaching, during an interview on German TV in 1998.
"Well, it's very simple," Rangnick says. "[Gegenpressing is] a very proactive style of football, similar to the way in which Borussia Dortmund and Liverpool have been playing under Klopp," Rangnick said. "We like to press high, with a very intense counter-pressure. When we have the ball, we do not like any square or back passes.
"The goalkeeper also should not be the one with the most contact on the ball. In almost every league and every country, the goalkeeper is technically the most limited football player on the pitch and therefore we have to make sure that he has the lowest contact with the feet. It is a fast, proactive, attacking, counter-attacking, counter-pressing, exciting and entertaining [style of] football."
He even admitted to inspiring Jurgen Klopp to follow his Gegenpressing style, something Klopp has called "Heavy Metal Football".
"What we did in Hoffenheim had a lot of influence on German football," Rangnick said. "I remember in our first year in the Bundesliga in 2008 we played Borussia Dortmund under Jurgen Klopp, who came from Mainz to Dortmund, and we dominated them 4-1.
"It could easily have been six or seven, because we continuously pressed them for the entire game. The following week Jurgen said that this is exactly the style of football he wants to play with Dortmund in the future. During the next two years he developed his team in such an impressive manner that they managed to win two consecutive championship titles and two cups."
So, despite being the Manchester United manager (albeit briefly), Liverpool fans have a league title and a Champions League title to thank Ralf Rangnick for.