Park Ji Sung once pocketed Andrea Pirlo in a Champions League game, showing the impact he had on Manchester United during his time there.
The South Korean star was a fan-favourite at Old Trafford. Spending 7 years with Manchester United, he only played in 134 Premier League matches.
He struggled to nail down a starting birth at United, but was a favourite of legendary manager Sir Alex Ferguson.
Park Ji Sung only played as many as 18 league games twice in the those seasons, but was also picked upon when the big occasion arose.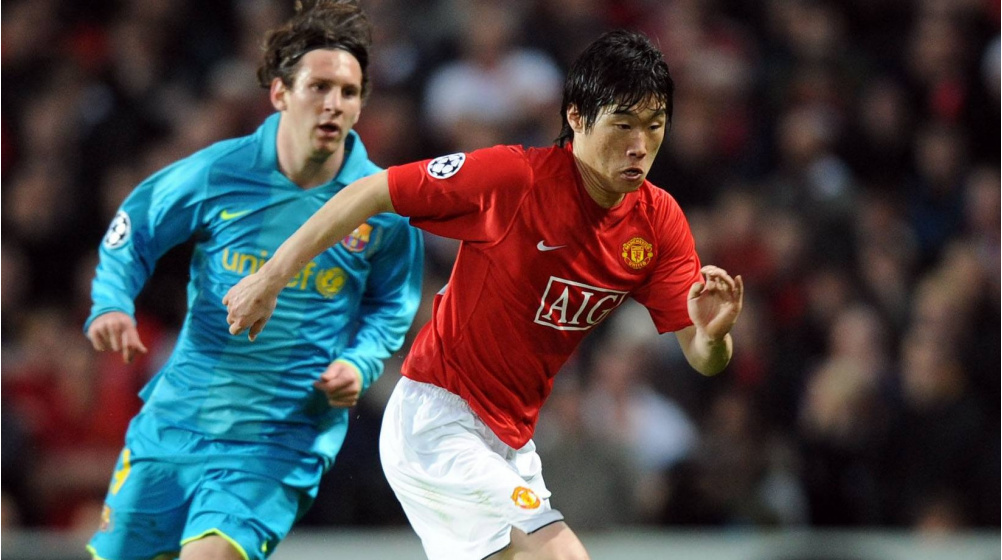 His commitment to the team and incredible work rate made him first on the team sheet for the big games at Old Trafford. He was also versatile and would never ever stop running for 90 minutes.
This earned him the nickname of "Three-Lung Park" and the admiration of Manchester United fans across the globe. He consistently ran more in games than anyone else and was lauded for his attacking and defensive capabilities.
He was so beloved by the manager that Sir Alex Ferguson trusted him to go up against any of the world's best players.
The former Manchester United manager claimed that if he had started Park Ji Sung against Barcelona in the 2011 Champions League final, then he would have walked away from Wembley with the trophy.
"That's where I lost the final against Barcelona at Wembley,"

"I should've changed it at half-time and put Ji-Sung Park on Messi. That was a mistake. I realised that after 10 minutes.

"But I think if I'd have played Ji-Sung Park against Messi I think we'd have beaten them, I really do.

Sir Alex Ferguson on Park Ji Sung
While this claim may seem ridiculous, the Korean midfielder did have previous. In fact, he nullified one of the greatest midfielders of all time during one memorable Champions League clash.
Park Ji Sung on Andre Pirlo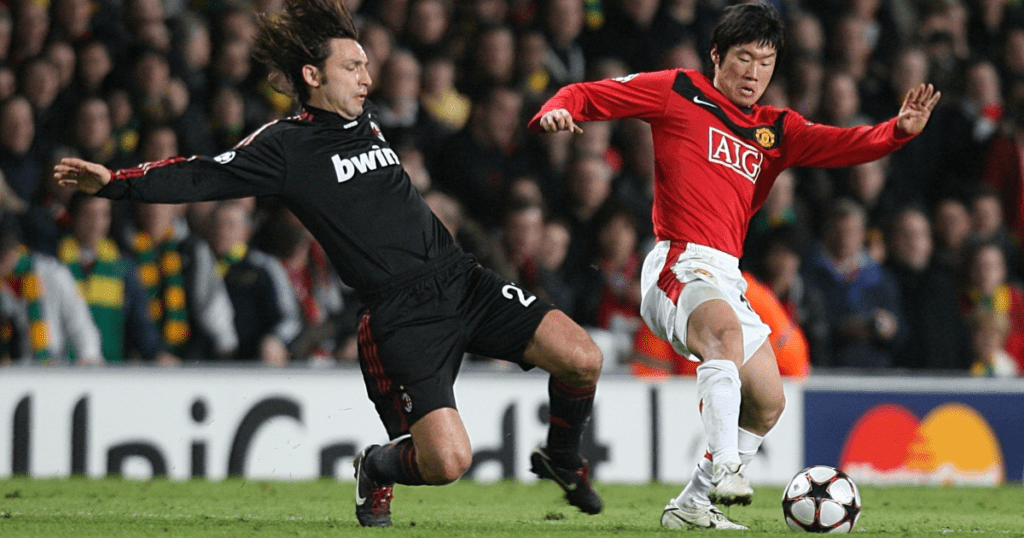 In the clash between Manchester United and AC Milan in 2010, Park Ji Sung was given a very special task by Sir Alex Ferguson.
The Scot always trusted Park in the biggest games and gave him what some would consider an unsurmountable task when taking on the Italian giants.
Park Ji Sung was tasked with man-marking Andre Pirlo, the legendary Italian playmaker.
Pirlo played for all the top clubs in Italy (Milan, Inter and Juventus) and made his name as one of the top passers of the ball in Europe.
Excelling in a midfield three or a diamond formation, he shielded the defence and sprayed balls all across the field with pinpoint accuracy.
Teams were built around Pirlo, which meant only one thing for the Manchester United manager – stop Pirlo and you stop Milan.
Only one man was fit for the job. Park Ji Sung's incredible defensive work and unmatched work rate was exactly what was needed to stop him.
Park Ji Sung vs Andrea Pirlo was one, and there would only be one winner.
Manchester United smashed AC Milan 4-0 at Old Traffod in a massive victory. They galloped into the Champions League quarter-finals, with Park's performance taking all the plaudits.
Park Ji Sung barely gave Andrea Pirlo a kick in the game. He followed him around the pitch like a bad spell, ensuring he couldn't control the game with the ball at his feet.
While he was usually spreading the play with accurate long balls, Pirlo's influence was nullified by the Korean star.
Pirlo only managed 21 passes in the entire game and didn't create any chances for the Milan forwards to latch onto. Park even managed a goal between his defensive duties, firing home after an assist from Paul Scholes.
Andrea Pirlo even wrote about the match in his book Penso Quindi Gioco' (I Think Therefore I Play),praising the performance of Ji Sung Park. Speaking about the game, the Italian World Cup winner said;
At Milan, he [Sir Alex Ferguson] unleashed Park Ji-Sung to shadow me. [Park] rushed about at the speed of an electron. He'd fling himself at me, his hands all over my back, trying to intimidate me.

"He'd look at the ball and not know what it was for. They'd programmed him to stop me. His devotion to the task was almost touching. Even though he was a famous player, he consented to being used as a guard dog."
Manchester United vs AC Milan
When Manchester United drew AC Milan in the 2010 Champions League, fans were ecstatic.
It would signal the return of some of the legends of football for the first time in years. Big stars like Ronaldinho, Pirlo and Thiago Silva made appearances at Old Trafford, but one familiar face dominated headlines.
David Beckham returned to Manchester United for the first time since leaving in 2003. He was on loan at AC Milan, spending time away from LA Galaxy during their off-season.
He had a big impact on the Italian giants in his two loan spells, and almost made a permanent move to Milan. However, he stayed in America until just before retiring, lasting six months at PSG once his contract expired.
He was well received by the Old Trafford faithful when he came off the bench in the second half for Ignazio Abate to a rousing cheer.
The former England captain was a legend for Manchester United, winning multiple league titles under Sir Alex Ferguson and starred in their treble-winning season in 1999.
David Beckham left the club for Real Madrid in 2003, following a famous falling out with Ferguson. He was part of the famed "Galacticos" of Madrid, before leaving the club in 2007 for the MLS.
He did not have a huge impact on the game, however. He was powerless to stop United, who were three-nil up by the time he came onto the pitch.
Goals from Rooney (2) and Park put the Red Devils three-nil up, before a Darren Fletcher striker in the 89th minute.
After the match, Beckham was seen wearing a green and gold scarf, a symbol of the fans growing resentment against the club's owners